Exhibit at CHSI Stitches 2019 – the UK's trade show for the creative craft industry
Meet an audience ready to order.
CHSI Stitches is your chance to make new business contacts, promote your products and take orders for the year ahead. Our unrivalled trade buyer database ensures you can make high quality contacts for better return on investment than ever before.
The thousands of buyers that flock to Stitches each year come to discover new products, choose their new lines for the year ahead and place orders. This is the calendar highlight for retailers and there is huge excitement in discovering what's new to buy in.
Our sales team is ready to work with you to make this your best trade show – book your stand today – dominicf@ichf.co.uk or call 07973 670 219
Don't just take our word for it…
"This is our second year exhibiting at Stitches and it's been brilliant for us. We've seen a big increase in sales since last year and a lot more recognition of our brand. It's great to be able to connect with our existing stockists face to face as well as to get in front of new customers and put our products in their hands so they can feel the quality."
Tilly Walnes, Tilly and the Buttons
"It's been an absolutely fabulous show for Korbond. I think what's been important for us this year is the time and effort that's gone into the product selection, design, the stand and the execution. Sunday was brilliant day in terms of the buzz, lots of new retailers, lots of new enquiries. Tuesday has been one of our best days ever at the show. To top it off with winning the award for best stand is the icing on the cake. It's been one of our best years here. I'm absolutely delighted."
Stuart Caller, General Manager, Korbond Group
"We have exhibited at CHSI since it started and have been very pleased with the show this year. We have met lots of buyers from Europe and particularly Eire looking to find more diverse products for their shops. This year, perhaps due to a better economic outlook, buyers have been more positive and confident. We have lots of new ranges and lines, which is always important for the quilting market as buyers want interesting new ranges to inspire their customers."
Andrea Heaton, Director at EBOR Fabrics Ltd
"This is our first ever trade show and we have had a phenomenal response which has exceeded our expectations. We have met a mixture of buyers from department stores to independent retailers and buyers from museum shops and bookshops. We have launched our Elephant beginner crochet kit here and it has been the focus of attention for visitors to the stand."
Kerry Lord, Director at Toft: Luxury British Knitting
"This is the show for craft retailers to be at. It's your chance to make sure you are stocking 2018's must-have craft products. Stitches is a pivotal industry gathering and sets the trends for the year to come."
Julie Bonnar, Editor, Craft Focus
Why exhibit at CHSI Stitches?
Benefits to Exhibitors
New Creative Forum – Exclusive to CHSI Stitches visitors and exhibitors – free Insights Keynote Lecture reveals large scale research on the UK creative craft market
New product showcase – get your products the exposure they deserve at the entrance to the show
Creative Catwalk – bring your products alive in front of buyers and retailers on the runway
New exhibitor VIP area – for business meetings with new and loyal clients
Media attention – dozens of print and blogger journalists visit CHSI Stitches every year. Our PR team drive press coverage and social media for your products and show attendance throughout the year
Be part of the biggest and best trade event for the creative craft industry in Europe – An internationally recognised trade show platform for your company to showcase the products & services that you offer.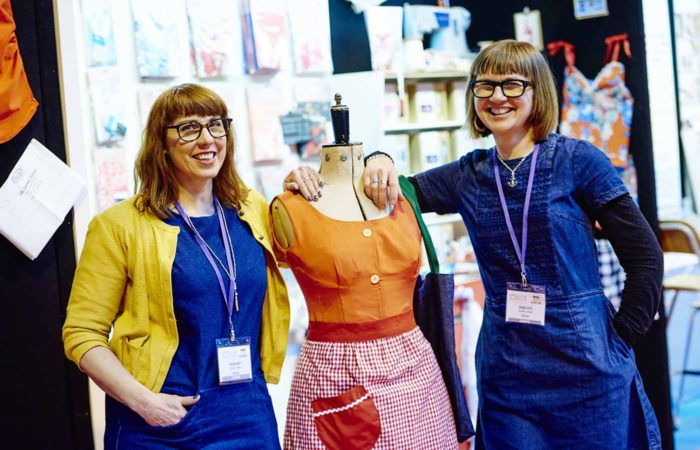 Bright Sparks: The new designers forum
Just starting out? Launch your new products and designs in The Bright Sparks Pavilion at CHSI Stitches 2018. Call us for information on:
+44 1425 272711.
Your stand
Shallower depth exhibition stands.
Stand out
Brightly coloured stand fascia enabling you to stand out from the crowd.
Online promotion
Free website entry on our exhibitors list.
Showcase
Dedicated display space on the New Product Showcase.

Show guide
Dedicated editorial feature on your company in the Show Guide.
Press
Access to our dedicated PR team free of charge.
Opportunity
The opportunity to meet thousands of buyers.

Stitches Statistics
Find out what makes the show such a great opportunity for your creative craft company…